Chill the Affected Area
Apply ice to the affected area during the first 24 to 48 hours following your injury. The cold will reduce the inflammation caused by the injury, according to the University of Maryland's Professor of Physical Therapy E. Anne Reicherter.
Heating the affected area will provide some comfort from the pain. However, the heat increases the amount of inflammation around the injured area. Heat should only be used after the first 48 hours following the injury.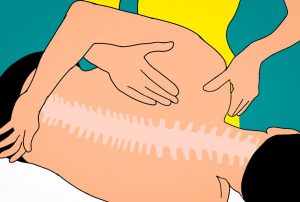 When using ice or heat, you should remove either after twenty minutes to give your skin a rest from the heat or chill. If the pain persists, you should consult your doctor.
Maintain Movement
Your spine is designed to move, so you should try to maintain your normal range of movement, and do your normal daily activities.
Continue going to work and doing light chores, like walking the dog, or making the bed. As you start to feel better, you can begin to raise your activity levels to include aerobic exercises such as cycling or swimming.
Merely taking a walk can maintain movement in your back, so don't try to overdo things.